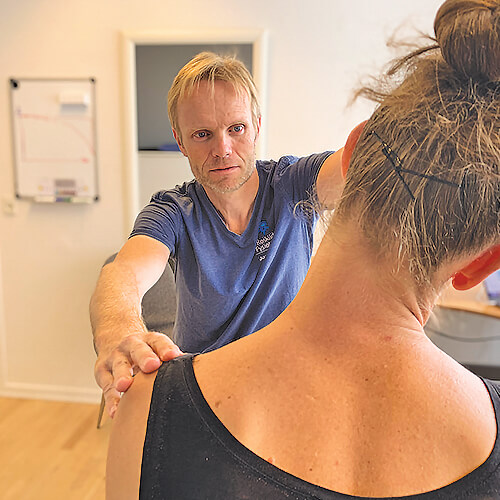 Dit hoved er en af de allervigtigste dele af din krop. Smerter og ubehag i og omkring hovedet påvirker dig derfor rigtig meget og kan være nærmest invaliderende. Der er dog meget, der kan gøres, hvis du har problemer i og omkring hovedet. Vi behandler og hjælper med at genoptræne en hel række forskellige lidelser som fx hovedpine, hjernerystelse og svimmelhed.
Hovedproblemer er mange ting
I første omgang er det vigtigste at afgøre, hvad dine hovedproblemer skyldes. Du kan fx have fået et slag på hovedet, eller du har hovedpine, fordi du sover eller arbejder i en uhensigtsmæssig stilling. Der er mange varianter, og ikke to mennesker er ens. Derfor undersøger vi grundigt din problemstilling, så vi kan lave en behandlingsplan til dig, som har effekt, så du kommer helt ovenpå igen.
Vi behandler hovedproblemer som:
Hovedpine
Migræne
Svimmelhed
Hjernerystelse
Piskesmæld
Har du problemer med smerter og ubehag i og omkring hovedet, er du velkommen til at kontakte os for en uforpligtende snak om, hvordan vi kan hjælpe dig.