Et nyt hold studerende er startet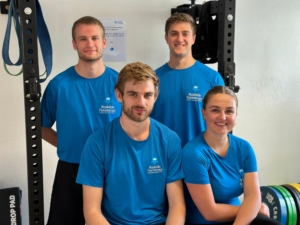 Så byder vi endnu et hold skønne studerende velkommen!
I de næste 7 uger vil vi have den udsøgte fornøjelse at have Jens, Nicolai, Anders og Marie som studerende på klinikken.
De læser alle på 5. semester af fys-uddannelsen. De starter som "føl" hos mere erfarne fysioterapeuter i nogle dage. Herefter bliver de sluppet mere fri og indgår i det daglige arbejde på klinikken.
Alt er med andre ord, som det plejer at være, når vi har studerende: Vi går efter, at de får maksimalt fagligt udbytte af deres praktik hos os, krydret med godt humør og højt til loftet.
Tag godt imod dem alle fire!